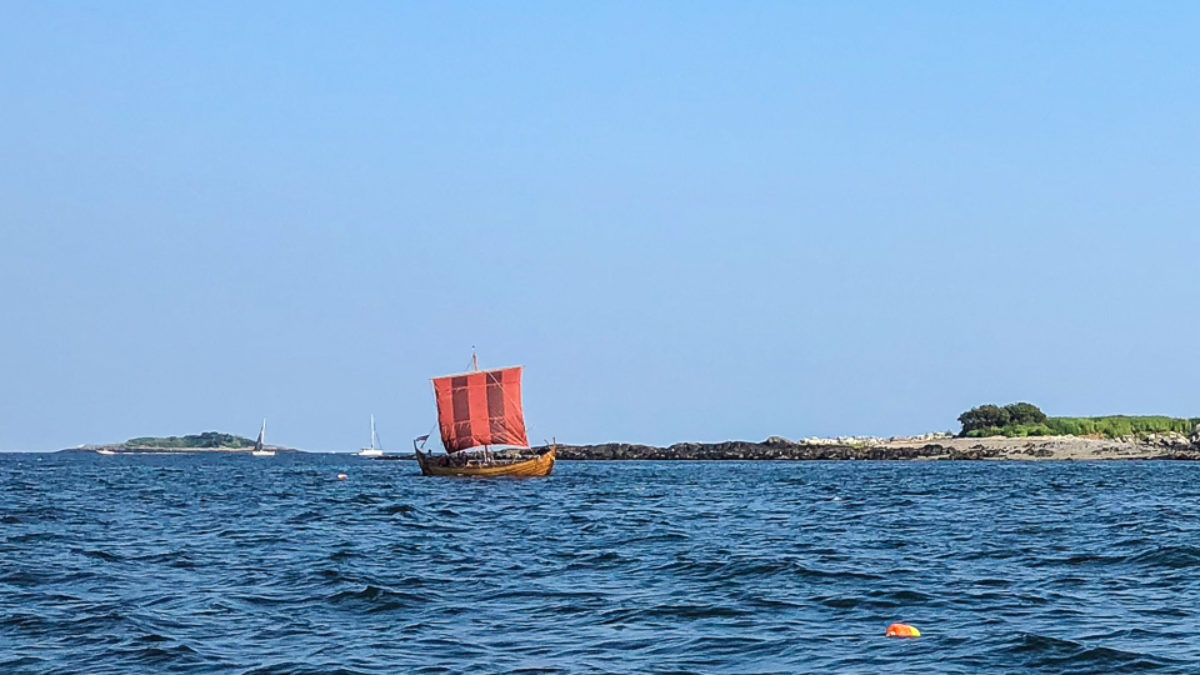 Westbound!
Last weekend was one of "firsts" for Norsvald. First time outside Gloucester Harbor; first time to sail more than a couple of miles at a time;  first time to visit Salem Harbor, first time to…— you get the idea!
On Friday afternoon, full of anticipation, excitement and let's admit a few butterflies in the stomach, our North Shore Viking crew lowered POLARIS's oars, and, to the sound of a long blast on the Viking horn POLARIS's  beautiful stem pushes past the fabled knockabout prow of Schooner Adventure and into the channel.
Thirteen miles is long row for any crew. The forecast was for no wind until the afternoon sea breeze kicks in.  We had arranged a tow boat to help us get a mile or two upwind where all being well we'd cast off and sail the rest of the way.
Towing any boat can be difficult and sometimes dangerous but straightforward enough in a calm sea. Or so we thought. We love the attention and are used to motor boats approaching for a picture or to make a "row harder" joke. At one point we were adjusting our tow lines when a huge power cruiser took aim and drove by close enough  — "for a look" at full speed. Besides a look the captain got an earful of some Viking expletives as his wake nearly tore our two boats apart.
Under sail at last!
Things looked up not long afterwards. We celebrated our first passage past the Dog Bar Breakwater and for POLARIS the sight of a less familiar shoreline. In the distance ahead we could see the Chebacco boat Lewis H. Story negotiating with the heavens about how much wind and when; alternatively motoring, motor sailing, desperately aiming towards Maine in search of a breeze, and then finally, in the right direction  — actually sailing! The sight of spinnakers in a regatta off Marblehead confirmed there was wind coming.
When POLARIS's sail fills with wind her character changes. Now we understand why the Vikings sometimes considered their ships to be horses of the sea, often naming them as such. As if been freed from the paddock POLARIS dances forward and then settles to a contented canter. With about seven knots of wind we were now able to aim directly at our obvious landmark, the new Salem power station, and steadily sail along at just over three knots. Our tow boat became our chase boat.
Approaching America's oldest port!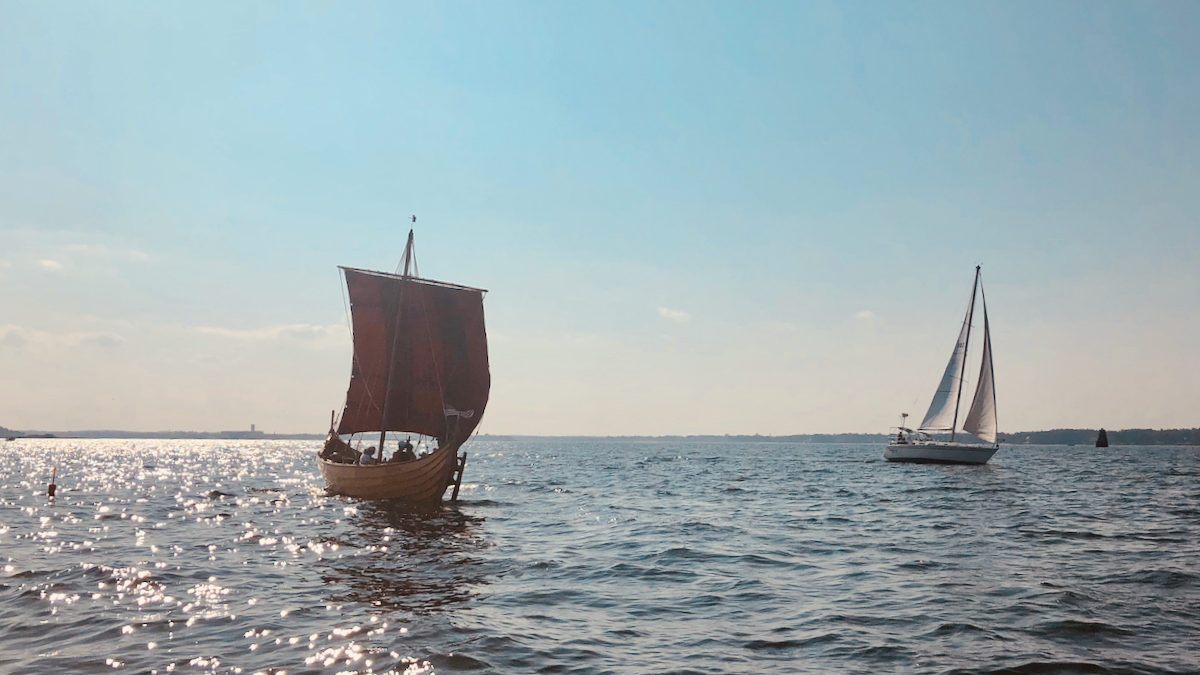 In the changing light of the late afternoon, squinting into full sun we approached the crowded mooring field of Historic Salem harbor. A deliberation about whether to sail, to row or get towed into the marina was short lived — we decided our square sail could carry us right to the fairway into Hawthorn Cove Marina; we'd lower the sail and then row ourselves a hundred yards in. The plan worked as we hoped and with expert assistance from the Festival dock crew we were soon berthed at the slip, sun tired but happy!